Do you know: "Asian Paints ltd is the No.1 paint company in India and 3 times bigger than the nearest competitor"?
In this Ultimate Guide on Asian Paints Ltd,you will learn about
History
Chairman & CEO
Business Division
Financial Performance of the company
Asian Paints Ltd History
All Great Things Start Small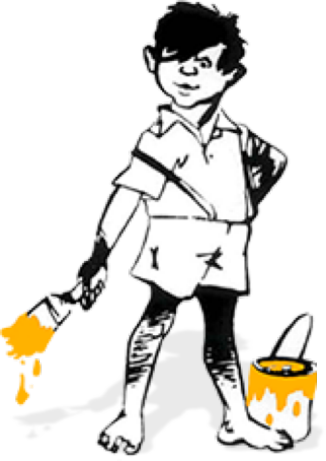 Asian Paints Ltd has come a long way since its small beginnings in 1942. It was set up as a partnership firm by four friends who were willing to take on the world's biggest, most famous paint companies operating in India at that time. Over the course of 25 years, Asian Paints became a corporate force, and India's leading paints company. Driven by its strong consumer-focus and innovative spirit, the company has been the market leader in paints since 1967. Today, it is double the size of any other paint company in India. Asian Paints manufactures a wide range of paints for decorative and industrial use.
Asian Paints Logo
Company Profile
| | |
| --- | --- |
| Industry | Chemical |
| Founded | 1 February 1942; 78 years ago |
| Founder | Champaklal Choksey, Chimanlal Choksi, Suryakant Dani and Arvind Vaki |
| Chairman | Ashwin Dani |
| CEO | Amit Single |
Asian Paints is India's leading paint company with a group turnover of Rs 202.1 billion. The group has an enviable reputation in the corporate world for professionalism, fast track growth, and building shareholder equity.
The company has 50+ Years of leadership in India
It is a No.1 Paint company in India
3rd Largest paint company in Asia
9th Largest paint company in the World
Asian Paints operates in 15 countries and has 26 paint manufacturing facilities in the world servicing consumers in over 60 countries.
Besides Asian Paints, the group operates around the world through its subsidiaries Asian Paints Berger, Apco Coatings, SCIB Paints, Taubmans, Causeway Paints, and Kadisco Asian Paints.
Chairman
Ashwin Dani has worked and developed expertise across all functions within the Company including Research & Technology, Sales & Marketing, Strategy, Supply Chain Management and Business Management besides being one of the best paint technocrats in the country.
CEO
He has been working with Asian Paints for the last 30 years in various capacities across Sales, Marketing, Supply Chain & Research and Technology.
Business Division
The company operate mainly in four Business Division
Decorative Coatings
International Operation
Industrial Coatings
Home Improvement Business
REVENUE BREAK-UP BY BUSINESS SEGMENTS
1. Decorative Coatings
The company has eight decorative paint manufacturing plants across the country, supporting an extensive distribution platform. Company's products cater to varied price points and requirements, consisting primarily of four segments – interior walls, exterior walls, wood finishes, and metal finishes. It also introduced new categories such as waterproofing, wall coverings, painting tools, and implements, alongside adhesives and sanitizers.
20+
New products
launched every year
2.International Operation
The company operates in four regions across Asia, the Middle East, South Pacific, and Africa through the seven corporate brands viz. Asian Paints, Apco Coatings, Asian Paints Berger, Causeway Paints, SCIB Paints, Taubmans, and Kadisco Asian Paints. Its presence in the Middle East and South Asia is significant, and we are expanding with a key focus on Africa and Indonesia.
The company is amongst
the top 3 players in
decorative paints in
12 of the 14 countries
outside India
3.Industrial Coatings
Asian Paint caters to the Indian industrial coatings market through two strategic joint ventures with PPG Inc. of the USA, a global leader in coatings, offering the entire spectrum of industrial coatings products such as automotive coatings, refinishes, protective coatings, floor coatings, and powder coatings, among others.
The company is the market leader in the auto refinish segment and the second-largest player in the automotive OEM segment. Its industrial coatings manufacturing capacity is being steadily enhanced to address the growing OEM demand.
4.Home Improvement Business
Kitchens and Wardrobes
Bath Fittings and Sanitaryware
Brand Portfolio
Interior Paint
Royale Aspira, Royale Health Shield, Royale Shyne, Royale Luxury Emulsion, Royale Play Metallics, Royale Play Safari, Apcolite Advanced Shyne, Apcolite Advanced Emulsion, Tractor Emulsion Shyne, Tractor Emulsion, Tractor Sparc, Tractor Acrylic Distemper
Exterior Paints
Apex Ultima Allura Venezio, Apex Ultima Allura Torino, Apex Ultima Protek Duralife (Basecoat & TopCoat), Apex Ultima Protek Lamino, Apex Ultima Protek (Basecoat & TopCoat), Apex Ultima, Apex Createx Roller Finish, Apex Shyne, Apex, Ace Shyne, Ace, Ace Sparc
Metal Finishes (Enamels)
Apcolite Rust Shield, Apcolite Satin Enamel, Apcolite Premium Gloss Enamel, Tractor Enamel
Wood Finishes Range
Woodtech Polyester Gold, Emporio PU, Woodtech Insignia, Woodtech PU Palette, Woodtech Aquadur PU, Woodtech PU, Woodtech Melamyne, Woodtech Touchwood, Woodtech GloMax
Financial Performance in Last 10 Years
SALES GROWTH : CAGR 11.81%
PROFIT GROWTH : CAGR 13.83%
ASIAN PAINT SHARE PRICE HISTORY
| Date | Price | | |
| --- | --- | --- | --- |
| 01-09-2002 | 22.78 | | 1,00,000 |
| 01-10-2002 | 21.90 | -4% | 96,111 |
| 01-11-2002 | 21.73 | -1% | 95,378 |
| 01-12-2002 | 21.68 | 0% | 95,172 |
| 01-01-2003 | 21.73 | 0% | 95,378 |
| 01-02-2003 | 21.18 | -3% | 92,951 |
| 01-03-2003 | 22.00 | 4% | 96,563 |
| 01-04-2003 | 22.08 | 0% | 96,914 |
| 01-05-2003 | 25.18 | 14% | 1,10,508 |
| 01-06-2003 | 25.31 | 1% | 1,11,092 |
| 01-07-2003 | 26.57 | 5% | 1,16,609 |
| 01-08-2003 | 30.75 | 16% | 1,34,969 |
| 01-09-2003 | 30.36 | -1% | 1,33,257 |
| 01-10-2003 | 27.44 | -10% | 1,20,441 |
| 01-11-2003 | 30.96 | 13% | 1,35,869 |
| 01-12-2003 | 33.48 | 8% | 1,46,952 |
| 01-01-2004 | 32.25 | -4% | 1,41,553 |
| 01-02-2004 | 30.12 | -7% | 1,32,182 |
| 01-03-2004 | 30.15 | 0% | 1,32,336 |
| 01-04-2004 | 30.84 | 2% | 1,35,364 |
| 01-05-2004 | 29.50 | -4% | 1,29,504 |
| 01-06-2004 | 31.35 | 6% | 1,37,603 |
| 01-07-2004 | 31.93 | 2% | 1,40,170 |
| 01-08-2004 | 31.68 | -1% | 1,39,051 |
| 01-09-2004 | 32.36 | 2% | 1,42,014 |
| 01-10-2004 | 29.54 | -9% | 1,29,636 |
| 01-11-2004 | 30.06 | 2% | 1,31,940 |
| 01-12-2004 | 32.01 | 6% | 1,40,478 |
| 01-01-2005 | 35.99 | 12% | 1,57,947 |
| 01-02-2005 | 35.54 | -1% | 1,56,015 |
| 01-03-2005 | 39.20 | 10% | 1,72,036 |
| 01-04-2005 | 37.21 | -5% | 1,63,302 |
| 01-05-2005 | 38.42 | 3% | 1,68,613 |
| 01-06-2005 | 41.10 | 7% | 1,80,398 |
| 01-07-2005 | 45.56 | 11% | 1,99,952 |
| 01-08-2005 | 48.46 | 6% | 2,12,702 |
| 01-09-2005 | 50.47 | 4% | 2,21,525 |
| 01-10-2005 | 48.40 | -4% | 2,12,417 |
| 01-11-2005 | 52.53 | 9% | 2,30,545 |
| 01-12-2005 | 57.88 | 10% | 2,54,027 |
| 01-01-2006 | 61.44 | 6% | 2,69,653 |
| 01-02-2006 | 66.96 | 9% | 2,93,881 |
| 01-03-2006 | 64.61 | -4% | 2,83,567 |
| 01-04-2006 | 64.39 | 0% | 2,82,601 |
| 01-05-2006 | 57.06 | -11% | 2,50,450 |
| 01-06-2006 | 59.21 | 4% | 2,59,865 |
| 01-07-2006 | 61.03 | 3% | 2,67,853 |
| 01-08-2006 | 63.59 | 4% | 2,79,112 |
| 01-09-2006 | 67.61 | 6% | 2,96,756 |
| 01-10-2006 | 66.88 | -1% | 2,93,530 |
| 01-11-2006 | 71.31 | 7% | 3,12,975 |
| 01-12-2006 | 73.65 | 3% | 3,23,267 |
| 01-01-2007 | 80.25 | 9% | 3,52,236 |
| 01-02-2007 | 73.71 | -8% | 3,23,509 |
| 01-03-2007 | 71.65 | -3% | 3,14,489 |
| 01-04-2007 | 80.72 | 13% | 3,54,321 |
| 01-05-2007 | 83.01 | 3% | 3,64,373 |
| 01-06-2007 | 81.01 | -2% | 3,55,594 |
| 01-07-2007 | 88.59 | 9% | 3,88,843 |
| 01-08-2007 | 94.30 | 6% | 4,13,905 |
| 01-09-2007 | 98.83 | 5% | 4,33,810 |
| 01-10-2007 | 103.23 | 4% | 4,53,101 |
| 01-11-2007 | 99.00 | -4% | 4,34,535 |
| 01-12-2007 | 109.96 | 11% | 4,82,619 |
| 01-01-2008 | 124.61 | 13% | 5,46,965 |
| 01-02-2008 | 111.50 | -11% | 4,89,400 |
| 01-03-2008 | 119.99 | 8% | 5,26,665 |
| 01-04-2008 | 128.03 | 7% | 5,61,954 |
| 01-05-2008 | 128.59 | 0% | 5,64,412 |
| 01-06-2008 | 114.93 | -11% | 5,04,433 |
| 01-07-2008 | 120.45 | 5% | 5,28,662 |
| 01-08-2008 | 122.93 | 2% | 5,39,547 |
| 01-09-2008 | 118.71 | -3% | 5,21,068 |
| 01-10-2008 | 95.49 | -20% | 4,19,106 |
| 01-11-2008 | 88.96 | -7% | 3,90,445 |
| 01-12-2008 | 89.50 | 1% | 3,92,815 |
| 01-01-2009 | 78.88 | -12% | 3,46,201 |
| 01-02-2009 | 78.64 | 0% | 3,45,170 |
| 01-03-2009 | 78.64 | 0% | 3,45,148 |
| 01-04-2009 | 89.18 | 13% | 3,91,432 |
| 01-05-2009 | 108.00 | 21% | 4,74,038 |
| 01-06-2009 | 118.78 | 10% | 5,21,354 |
| 01-07-2009 | 141.14 | 19% | 6,19,497 |
| 01-08-2009 | 140.03 | -1% | 6,14,625 |
| 01-09-2009 | 140.57 | 0% | 6,17,017 |
| 01-10-2009 | 164.23 | 17% | 7,20,823 |
| 01-11-2009 | 167.97 | 2% | 7,37,260 |
| 01-12-2009 | 179.72 | 7% | 7,88,834 |
| 01-01-2010 | 185.22 | 3% | 8,12,975 |
| 01-02-2010 | 180.99 | -2% | 7,94,430 |
| 01-03-2010 | 203.88 | 13% | 8,94,900 |
| 01-04-2010 | 205.93 | 1% | 9,03,876 |
| 01-05-2010 | 208.61 | 1% | 9,15,639 |
| 01-06-2010 | 230.18 | 10% | 10,10,315 |
| 01-07-2010 | 260.33 | 13% | 11,42,672 |
| 01-08-2010 | 276.27 | 6% | 12,12,593 |
| 01-09-2010 | 266.32 | -4% | 11,68,942 |
| 01-10-2010 | 268.77 | 1% | 11,79,717 |
| 01-11-2010 | 264.89 | -1% | 11,62,665 |
| 01-12-2010 | 287.87 | 9% | 12,63,530 |
| 01-01-2011 | 260.01 | -10% | 11,41,224 |
| 01-02-2011 | 240.07 | -8% | 10,53,724 |
| 01-03-2011 | 252.58 | 5% | 11,08,634 |
| 01-04-2011 | 277.46 | 10% | 12,17,838 |
| 01-05-2011 | 313.34 | 13% | 13,75,324 |
| 01-06-2011 | 318.51 | 2% | 13,98,016 |
| 01-07-2011 | 313.40 | -2% | 13,75,587 |
| 01-08-2011 | 328.61 | 5% | 14,42,325 |
| 01-09-2011 | 310.14 | -6% | 13,61,278 |
| 01-10-2011 | 315.95 | 2% | 13,86,801 |
| 01-11-2011 | 287.93 | -9% | 12,63,815 |
| 01-12-2011 | 259.23 | -10% | 11,37,844 |
| 01-01-2012 | 299.53 | 16% | 13,14,708 |
| 01-02-2012 | 317.05 | 6% | 13,91,630 |
| 01-03-2012 | 324.20 | 2% | 14,22,991 |
| 01-04-2012 | 352.68 | 9% | 15,47,996 |
| 01-05-2012 | 402.15 | 14% | 17,65,154 |
| 01-06-2012 | 388.86 | -3% | 17,06,777 |
| 01-07-2012 | 364.23 | -6% | 15,98,692 |
| 01-08-2012 | 364.07 | 0% | 15,97,990 |
| 01-09-2012 | 393.48 | 8% | 17,27,077 |
| 01-10-2012 | 387.12 | -2% | 16,99,162 |
| 01-11-2012 | 433.04 | 12% | 19,00,693 |
| 01-12-2012 | 443.26 | 2% | 19,45,551 |
| 01-01-2013 | 450.11 | 2% | 19,75,662 |
| 01-02-2013 | 427.22 | -5% | 18,75,170 |
| 01-03-2013 | 491.73 | 15% | 21,58,298 |
| 01-04-2013 | 455.46 | -7% | 19,99,144 |
| 01-05-2013 | 485.36 | 7% | 21,30,338 |
| 01-06-2013 | 463.65 | -4% | 20,35,070 |
| 01-07-2013 | 511.82 | 10% | 22,46,500 |
| 01-08-2013 | 420.95 | -18% | 18,47,650 |
| 01-09-2013 | 459.25 | 9% | 20,15,757 |
| 01-10-2013 | 539.45 | 17% | 23,67,774 |
| 01-11-2013 | 503.65 | -7% | 22,10,639 |
| 01-12-2013 | 490.00 | -3% | 21,50,726 |
| 01-01-2014 | 471.70 | -4% | 20,70,403 |
| 01-02-2014 | 473.00 | 0% | 20,76,109 |
| 01-03-2014 | 547.95 | 16% | 24,05,083 |
| 01-04-2014 | 505.15 | -8% | 22,17,223 |
| 01-05-2014 | 507.60 | 0% | 22,27,977 |
| 01-06-2014 | 528.10 | 4% | 23,17,956 |
| 01-07-2014 | 603.35 | 14% | 26,48,246 |
| 01-08-2014 | 624.20 | 3% | 27,39,762 |
| 01-09-2014 | 629.55 | 1% | 27,63,244 |
| 01-10-2014 | 657.00 | 4% | 28,83,729 |
| 01-11-2014 | 744.70 | 13% | 32,68,665 |
| 01-12-2014 | 752.30 | 1% | 33,02,023 |
| 01-01-2015 | 857.75 | 14% | 37,64,868 |
| 01-02-2015 | 807.15 | -6% | 35,42,773 |
| 01-03-2015 | 811.30 | 1% | 35,60,988 |
| 01-04-2015 | 762.45 | -6% | 33,46,574 |
| 01-05-2015 | 787.05 | 3% | 34,54,549 |
| 01-06-2015 | 755.35 | -4% | 33,15,410 |
| 01-07-2015 | 882.80 | 17% | 38,74,819 |
| 01-08-2015 | 851.90 | -4% | 37,39,191 |
| 01-09-2015 | 841.60 | -1% | 36,93,982 |
| 01-10-2015 | 874.15 | 4% | 38,36,852 |
| 01-11-2015 | 838.50 | -4% | 36,80,376 |
| 01-12-2015 | 883.55 | 5% | 38,78,111 |
| 01-01-2016 | 869.90 | -2% | 38,18,198 |
| 01-02-2016 | 846.10 | -3% | 37,13,734 |
| 01-03-2016 | 868.40 | 3% | 38,11,614 |
| 01-04-2016 | 866.25 | 0% | 38,02,177 |
| 01-05-2016 | 984.85 | 14% | 43,22,740 |
| 01-06-2016 | 1003.30 | 2% | 44,03,722 |
| 01-07-2016 | 1114.15 | 11% | 48,90,269 |
| 01-08-2016 | 1157.90 | 4% | 50,82,298 |
| 01-09-2016 | 1160.70 | 0% | 50,94,588 |
| 01-10-2016 | 1069.90 | -8% | 46,96,045 |
| 01-11-2016 | 969.90 | -9% | 42,57,121 |
| 01-12-2016 | 891.05 | -8% | 39,11,030 |
| 01-01-2017 | 970.70 | 9% | 42,60,633 |
| 01-02-2017 | 1024.20 | 6% | 44,95,457 |
| 01-03-2017 | 1073.50 | 5% | 47,11,846 |
| 01-04-2017 | 1120.45 | 4% | 49,17,921 |
| 01-05-2017 | 1151.20 | 3% | 50,52,890 |
| 01-06-2017 | 1102.95 | -4% | 48,41,109 |
| 01-07-2017 | 1161.70 | 5% | 50,98,977 |
| 01-08-2017 | 1168.55 | 1% | 51,29,044 |
| 01-09-2017 | 1131.70 | -3% | 49,67,300 |
| 01-10-2017 | 1180.85 | 4% | 51,83,031 |
| 01-11-2017 | 1146.75 | -3% | 50,33,358 |
| 01-12-2017 | 1158.50 | 1% | 50,84,932 |
| 01-01-2018 | 1128.30 | -3% | 49,52,377 |
| 01-02-2018 | 1117.75 | -1% | 49,06,070 |
| 01-03-2018 | 1120.40 | 0% | 49,17,702 |
| 01-04-2018 | 1201.70 | 7% | 52,74,546 |
| 01-05-2018 | 1304.65 | 9% | 57,26,419 |
| 01-06-2018 | 1264.45 | -3% | 55,49,971 |
| 01-07-2018 | 1451.40 | 15% | 63,70,539 |
| 01-08-2018 | 1372.45 | -5% | 60,24,009 |
| 01-09-2018 | 1293.30 | -6% | 56,76,601 |
| 01-10-2018 | 1230.40 | -5% | 54,00,518 |
| 01-11-2018 | 1345.95 | 9% | 59,07,694 |
| 01-12-2018 | 1373.05 | 2% | 60,26,643 |
| 01-01-2019 | 1412.60 | 3% | 62,00,237 |
| 01-02-2019 | 1405.20 | -1% | 61,67,756 |
| 01-03-2019 | 1492.70 | 6% | 65,51,814 |
| 01-04-2019 | 1463.15 | -2% | 64,22,113 |
| 01-05-2019 | 1407.30 | -4% | 61,76,974 |
| 01-06-2019 | 1358.15 | -3% | 59,61,243 |
| 01-07-2019 | 1521.10 | 12% | 66,76,469 |
| 01-08-2019 | 1616.20 | 6% | 70,93,885 |
| 01-09-2019 | 1762.15 | 9% | 77,34,495 |
| 01-10-2019 | 1809.60 | 3% | 79,42,764 |
| 01-11-2019 | 1706.15 | -6% | 74,88,697 |
| 01-12-2019 | 1784.95 | 5% | 78,34,569 |
| 01-01-2020 | 1795.65 | 1% | 78,81,534 |
| 01-02-2020 | 1797.95 | 0% | 78,91,629 |
| 01-03-2020 | 1666.50 | -7% | 73,14,664 |
| 01-04-2020 | 1758.70 | 6% | 77,19,352 |
| 01-05-2020 | 1683.10 | -4% | 73,87,525 |
| 01-06-2020 | 1687.45 | 0% | 74,06,618 |
| 01-07-2020 | 1715.50 | 2% | 75,29,737 |
| 01-08-2020 | 1874.90 | 9% | 82,29,381 |
| 21-08-2020 | 1958.00 | 4% | 85,94,127 |
DIVIDEND HISTORY
| Ex-Date | Dividend Amount | Dividend Type | Record Date |
| --- | --- | --- | --- |
| July 23, 2020 | 1.50 | FINAL | – |
| March 3, 2020 | 7.15 | INTERIM | March 4, 2020 |
| Oct. 30, 2019 | 3.35 | INTERIM | Oct. 31, 2019 |
| June 13, 2019 | 7.65 | FINAL | – |
| Oct. 29, 2018 | 2.85 | INTERIM | Oct. 30, 2018 |
| June 14, 2018 | 6.05 | FINAL | – |
| Oct. 31, 2017 | 2.65 | INTERIM | Nov. 1, 2017 |
| June 15, 2017 | 2.00 | SPECIAL | – |
| June 15, 2017 | 5.65 | FINAL | – |
| Nov. 1, 2016 | 2.65 | INTERIM | Nov. 2, 2016 |
| June 16, 2016 | 5.30 | FINAL | – |
| Oct. 28, 2015 | 2.20 | INTERIM | Oct. 29, 2015 |
| June 24, 2015 | 4.30 | FINAL | – |
| Sept. 22, 2014 | 1.80 | INTERIM | Sept. 23, 2014 |
| June 16, 2014 | 4.20 | FINAL | – |
| Oct. 24, 2013 | 1.10 | INTERIM | Oct. 26, 2013 |
| June 6, 2013 | 36.50 | FINAL | – |
| Oct. 29, 2012 | 9.50 | INTERIM | Oct. 30, 2012 |
| June 7, 2012 | 30.50 | FINAL | – |
| Oct. 25, 2011 | 9.50 | INTERIM | Oct. 28, 2011 |
| June 9, 2011 | 23.50 | FINAL | – |
| Oct. 29, 2010 | 8.50 | INTERIM | Nov. 1, 2010 |
| June 30, 2010 | 18.50 | FINAL | – |
| Oct. 26, 2009 | 8.50 | INTERIM | Oct. 27, 2009 |
| June 17, 2009 | 11.00 | FINAL | – |
| Oct. 29, 2008 | 6.50 | INTERIM | Oct. 31, 2008 |
| June 12, 2008 | 10.50 | FINAL | – |
| Oct. 25, 2007 | 6.50 | INTERIM | Oct. 26, 2007 |
| June 13, 2007 | 1.00 | FINAL | – |
| March 20, 2007 | 6.50 | INTERIM | March 21, 2007 |
| Nov. 3, 2006 | 5.50 | INTERIM | Nov. 6, 2006 |
| June 15, 2006 | 8.00 | FINAL | – |
| Oct. 31, 2005 | 4.50 | INTERIM | Nov. 2, 2005 |
| June 22, 2005 | 5.50 | FINAL | – |
| Nov. 1, 2004 | 4.00 | INTERIM | Nov. 2, 2004 |
| June 16, 2004 | 5.00 | FINAL | – |
| Nov. 7, 2003 | 3.50 | INTERIM | Nov. 10, 2003 |
| July 9, 2003 | 6.50 | FINAL | – |
| Oct. 21, 2002 | 4.50 | INTERIM | Oct. 23, 2002 |
| July 11, 2002 | 5.50 | FINAL | – |
| Oct. 19, 2001 | 0.00 | INTERIM | Nov. 5, 2001 |
| Aug. 2, 2001 | 0.00 | FINAL | – |
| Oct. 16, 2000 | 0.00 | INTERIM | Oct. 31, 2000 |
BONUS SHARE ISSUE HISTORY
| DATE | BONUS RATIO |
| --- | --- |
| 28-05-2003 | 1:2 |
| 30-05-2000 | 3:5 |
| 18-10-1995 | 1:1 |
| 06-05-1985 | 3:5 |
Also Read: List of Top Best Paint Company In India | Detailed Guide

Also Read: Top 10 Most Popular Paint Brands in India